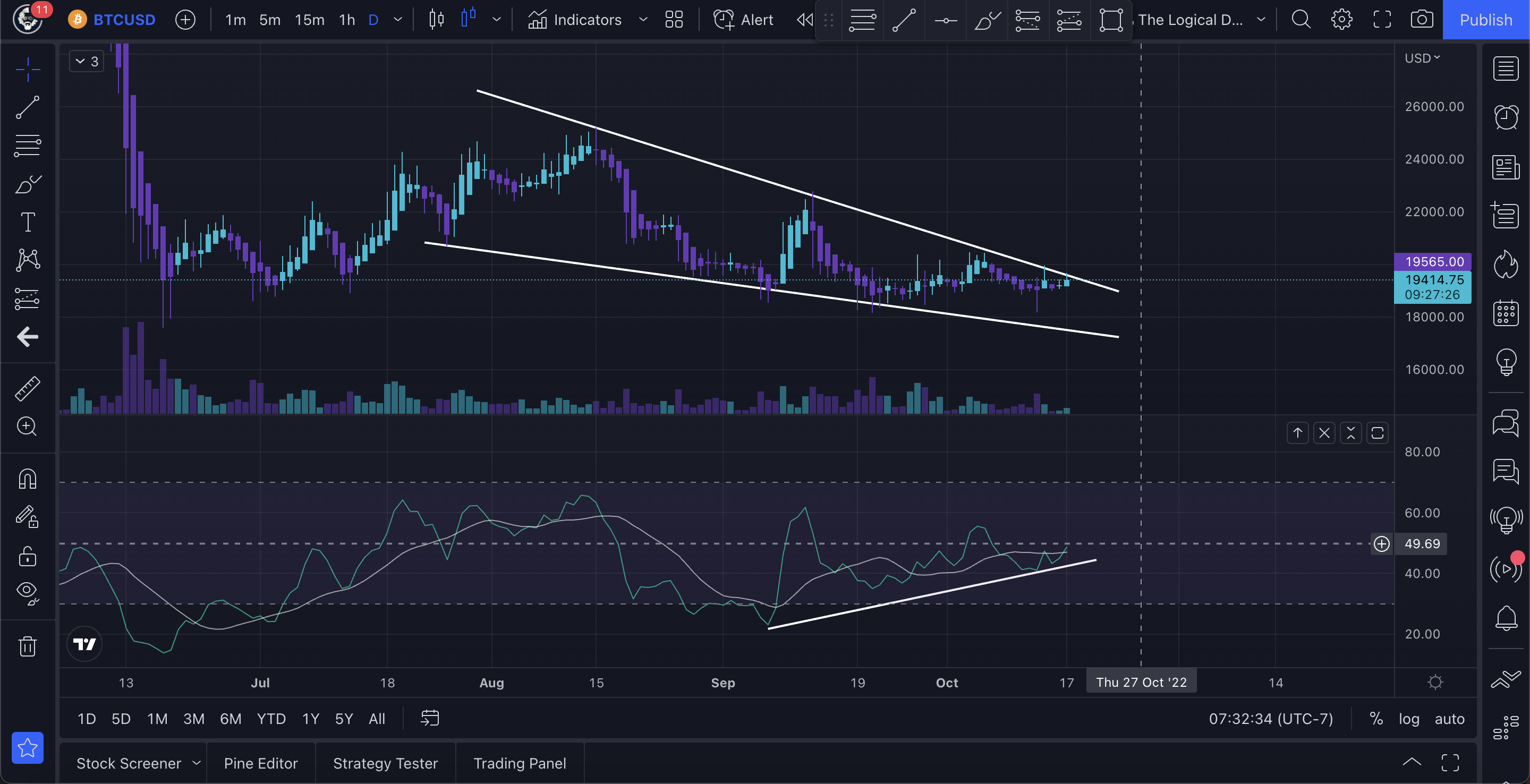 Bitcoin has been in an epic downtrend for some time now, but, at least on a technical level, that could change. Let's take a peek at what the grandpapa crypto is doing so we can plan our trades for the day and the week. Today is the first day of a new week, so let's get it started right! I am excited to relaunch Coin Logic TV today on the @coinlogiconline channel, starting off with a Monday Market Review with the one and only @taskmaster4450!
I am still on the sidelines as far as trading at the moment trying to recover my trading account after having to pull it for personal needs and bills. Sucks when that happens, but life is life and we are in some tough times. When you are living pretty much all on crypto earning, you have to make sacrifices at times. Anyway, that's a whole other post, lol. Back to Bitcoin…
Taking A Look At The Daily Chart
In the chart above, you will see some serious bullish divergence on the daily time frame. This is extremely bullish in my opinion, being it is forming on a longer-term time frame versus a shorter term.
There is also a descending wedge that has formed and Bitcoin looks like it wants to break!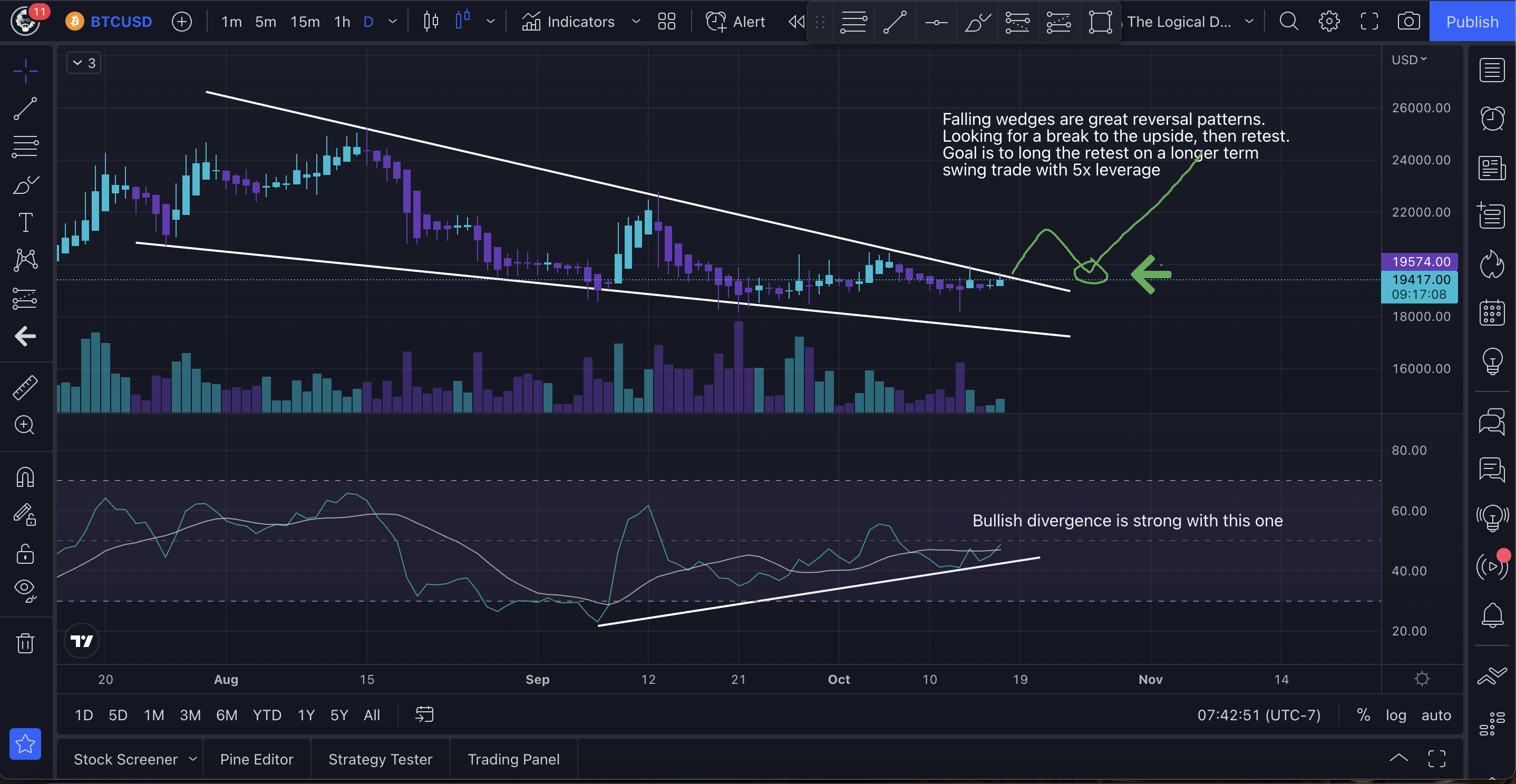 Falling Wedge on Daily
Falling wedges are some of my favorite patterns to trade. It's really the main pattern I look for, as I have had the best percentage wins playing falling wedge breakouts.
Now being this is on a daily time frame, this would certainly be a great swing trade if you play it properly. I feel confident that this is going to break to the upside, but in this market and global economy, anything could happen.
Bullish Divergence on Daily
The RSI is showing the formation of an uptrend at the same time the price action has been falling. This is an indication that the downward price pressure is slowing up and momentum is changing to the other direction. When momentum is the opposite of price action, we call this divergence. This is a HUGE indicator of a trend change, so you need to be keeping your eyes on this one. Again, being this is formed on the daily time frame is super bullish in my eyes, but we will have to keep tracking and see what is going on!
Short Term Action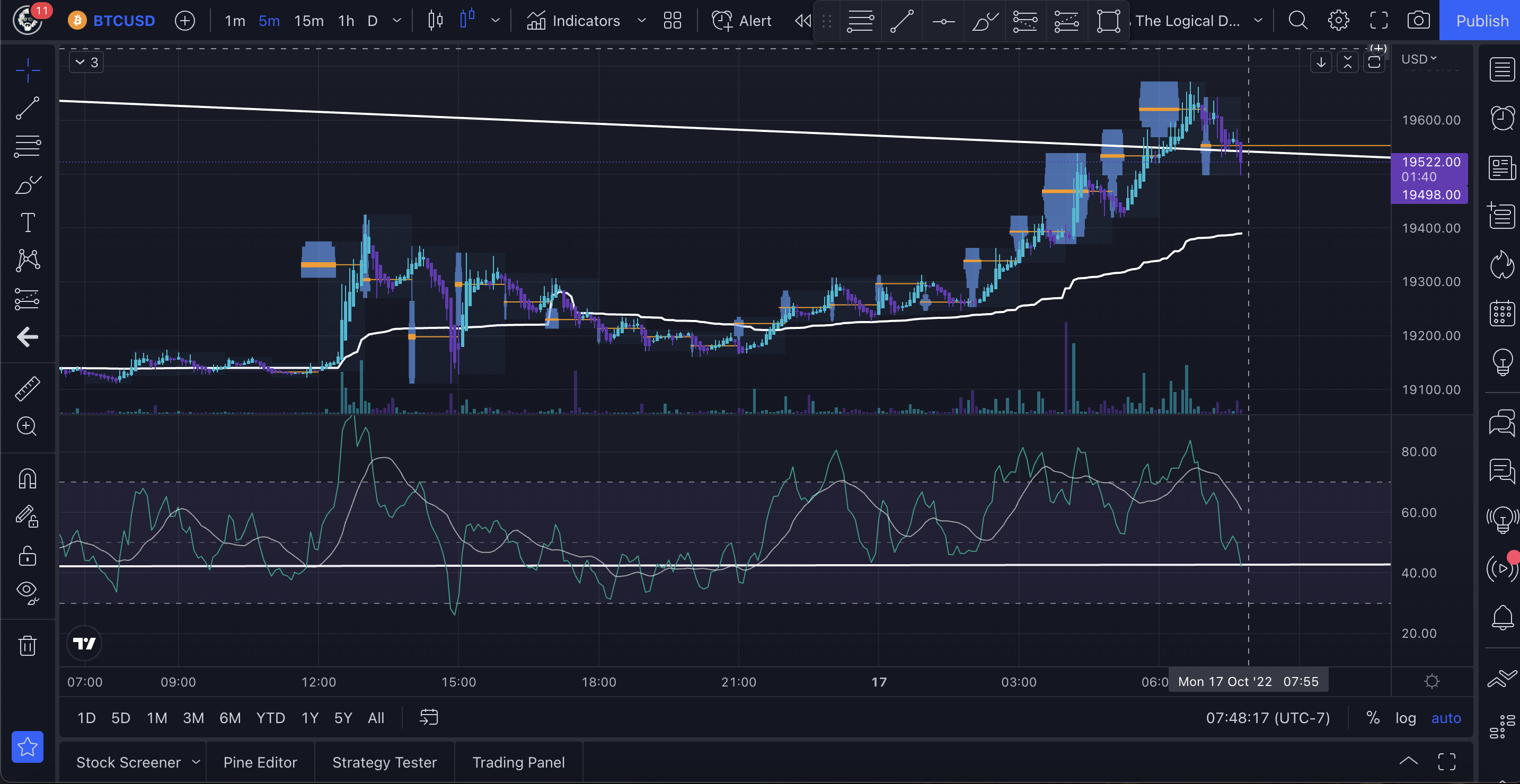 If you have been following my trade posts for any amount of time, you know I can't just sit around and swing trade. I love playing the short-term scalps. Makes trading exciting, plus you can make some great money inside of the bigger moves.
Bitcoin is on a current uptrend on the 5 minute chart, tracking above VWAP, but is retracing. The RSI is currently below the 50 line which is telling us that we could be going into a deeper retracement than has already occurred. This doesn't mean I would go short here. This is where I would be looking for a full drop back to VWAP, and then would be looking for a move at that point. If price bounces on VWAP and reverses, that's a great longing opportunity. If it breaks VWAP and retests, well, it's short time!
Playing Both Moves
All of that can happen inside the larger moves. So one way you can trade it is to actually play the bigger moves on Bitcoin, at a lower leverage like a 5X leverage, and then play the shorter term moves on something like Ethereum, ADA, or Solana. All three of those are my chosen altcoins to trade due to liquidity and volume in the markets I trade on versus other assets. They make bigger short term swings anyway, so those are great opportunities to makes money in the short term on bigger scalps than you would get on Bitcoin.
Time To Get To Work… On Yourself
Now that we have taken a look at what I am watching this week, it's time to go hit the gym, or as I like to say, my other office, lol. I am learning that to be the best I can be as a father, trader, project developer, and overall person, I have to be in good physical and mental shape. So I am on a mission to take care of my health first! I just want to take an early morning look at things and get a post out before I get to the hard stuff!
Excited to get back to the videos this week so make sure you are following @coinlogiconline as all of the video action will be happening over there!
If you are still watching YouTube, or trying to share good crypto content with your friends, then send them to the Coin Logic TV YouTube channel as we are posting there as well as Odysee!
Until next time traders…
Be Cool, Be Real, and always Abide!

Nothing said is financial advice.
This is for educational and recreational purposes only!
Stay safe in these volatile markets and don't get rekt!
Follow the markets and get the latest data and news on Coin Logic
Trade with me on Apollo X on BSC
Also posted on my blog on the Hive Blockchain via Leofinance.io:
https://leofinance.io/@thelogicaldude/love-the-look-of-bullish-divergence-on-bitcoin-monday-chart-watch